With constantly evolving global trends, everyone wants to stay up to date with the latest technology right? You probably feel very tempted to buy the newest iPhone as soon as it's out. So why adopt the same old conventional practices for your pets? That's right, pet care technology has also advanced to a considerable extent, and it is now time to pamper your pets at one of the most advanced vet facilities available in Nigeria!
Attention, all pet lovers, Innova Vet, has got you covered! Our premium yet affordable veterinary care will keep your pets comfortable and pampered!
Apart from general care for pets, which includes grooming, vaccination, parasite control, nutritional control, dental, gastrointestinal, poisoning, seizures, and more, we also provide many innovative solutions like imaging and diagnostics care for your pets.
Services and solutions offered at Innova veterinary care include:
Wellness Plans
Ever visited the nutritionist and received a personal diet plan for yourself? Well, we do the same, but for your pet!
Your pet requires extra care and attention, which our wellness plans specifically cater to by keeping account of each pet's unique dietary, health and play habits. We offer wellness plans for dogs/puppies and cats/kittens. These wellness plans cover vaccinations, clinical examinations, diagnostic tests, and disease prevention. So bring your pets over to our team at Innova for immediate care!
Imaging
As one of the best veterinary clinics and service providers in Nigeria, we have an ultrasound machine for small pets like dogs, cats, and rabbits. Our veterinary facility is equipped with an advanced imaging solution that makes treatment and disease diagnosis for your pets quick and faster!
We also have experienced imaging specialists that operate the equipment. With the help of our doctors and imaging specialist, you can get recommendations for the best clinical procedures. At Innova, all of these are available in one place, so you won't have to visit multiple hospitals or animal clinics!
Laboratory
It is often difficult to diagnose diseases in pets at the early stage, which can make treatment harder in the case of a chronic condition. To prevent this and ensure that your pet remains healthy we offer laboratory services like comprehensive blood analysis, chemistry, and urine analysis to screen your pet for any potential disease. The state-of-the-art laboratory equipment at Innova is designed specifically for this purpose. Whether you are a pet owner or a primary pet caregiver, Innova diagnostic lab have the best specialist and professionals in Lagos, Nigeria.
Cloud-based Veterinary Software
In today's day and age, digitalization is considered the optimum solution for all big companies. And so Innova also brings to you its own uniquely curated digital solution in the form of a cloud-based veterinary software called SMARTDVM. Designed exclusively for veterinarians in Nigeria, SMARTDVM allows smooth management of clinical records and administrative tasks.
This software is ideal for any veterinary hospital or clinic as it speeds up various tasks such as patient record organization, invoicing, telemedicine, and booking appointments.
This integrated and user-friendly software can be used anywhere and anytime directly from the comfort of your home. Veterinary care has never been this easy!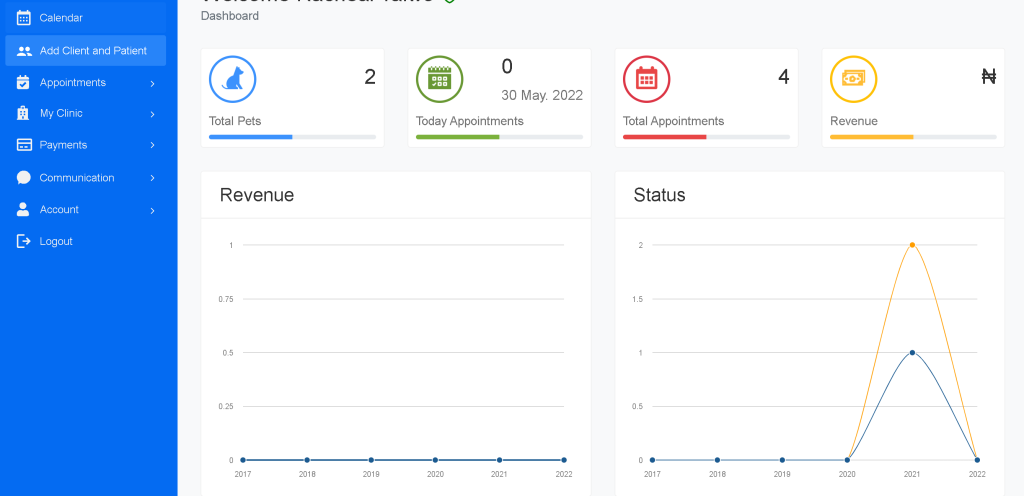 Partnerships
At Innova, we have multiple partnerships with veterinary doctors, clinics, and hospitals. Given the advanced technologies available these days, our goal is to improve the health of animals while providing an affordable technology-driven veterinary care system.