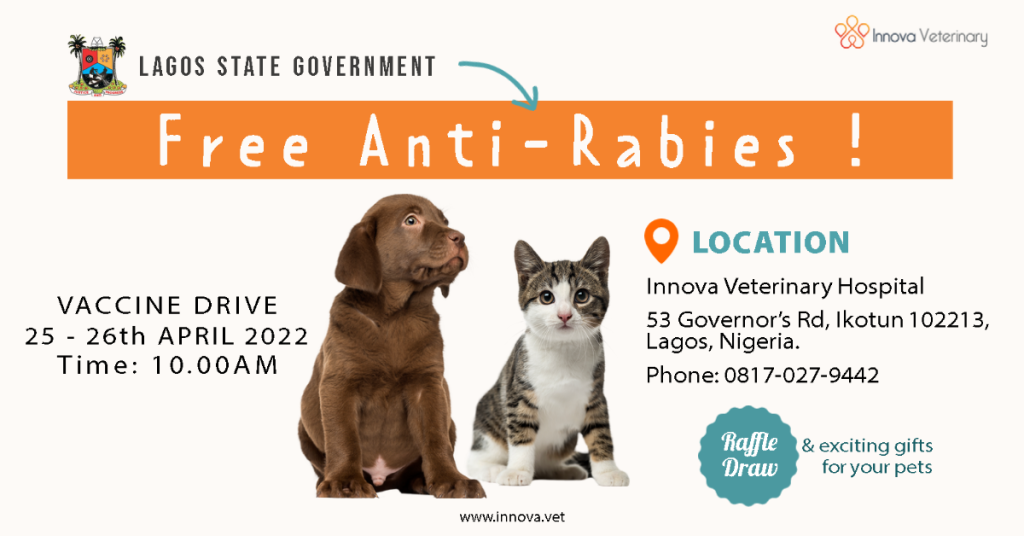 On 25 – 26 April 2022, Innova Veterinary in collaboration with the Lagos State Government will be giving anti-rabies vaccine to dogs and cats from our hospital facility at 53 Governor's Rd, Ikotun 102213, Lagos, Nigeria.
In an effort to control the disease and to foster the state public campaign against the transmission, the government will be donating free vaccines which will be available to pet owners at no cost.
Innova Veterinary hospital will open its door to all pet owners on the 25th of April. Veterinary professionals from the state and the Innova Vet team will be on the ground to administer the vaccines to your pets.
Rabies is a transmittable disease and is commonly transmitted by unvaccinated dogs/ cats in poverty belts and megacities.
According to World Health Organization, "Vaccination of at least 70% of dogs in areas at risk is now accepted as the most effective way of preventing human rabies deaths. "
We at Innova Veterinary believe that rabies can be prevented through vaccination which is why we partner with the government to bring this to our community at no cost.